THE WAIT IS OVER!
Click the link below to access Musick Studios fall swag pre order.
Print the form at home, complete and return to Musick Studios.
These items mak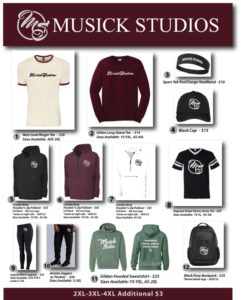 e great Christmas gifts!
Note we have two deadlines.
If you want to order items to be Christmas gifts, you will need to turn in your order no later than 11/15/2018.  Absolute last deadline to order is 11/30/2018.
***Orders received after 11/15/2018 are not guarenteed to be in by Christmas.***
MS Swag Order Form